---
MEET THE ARTIST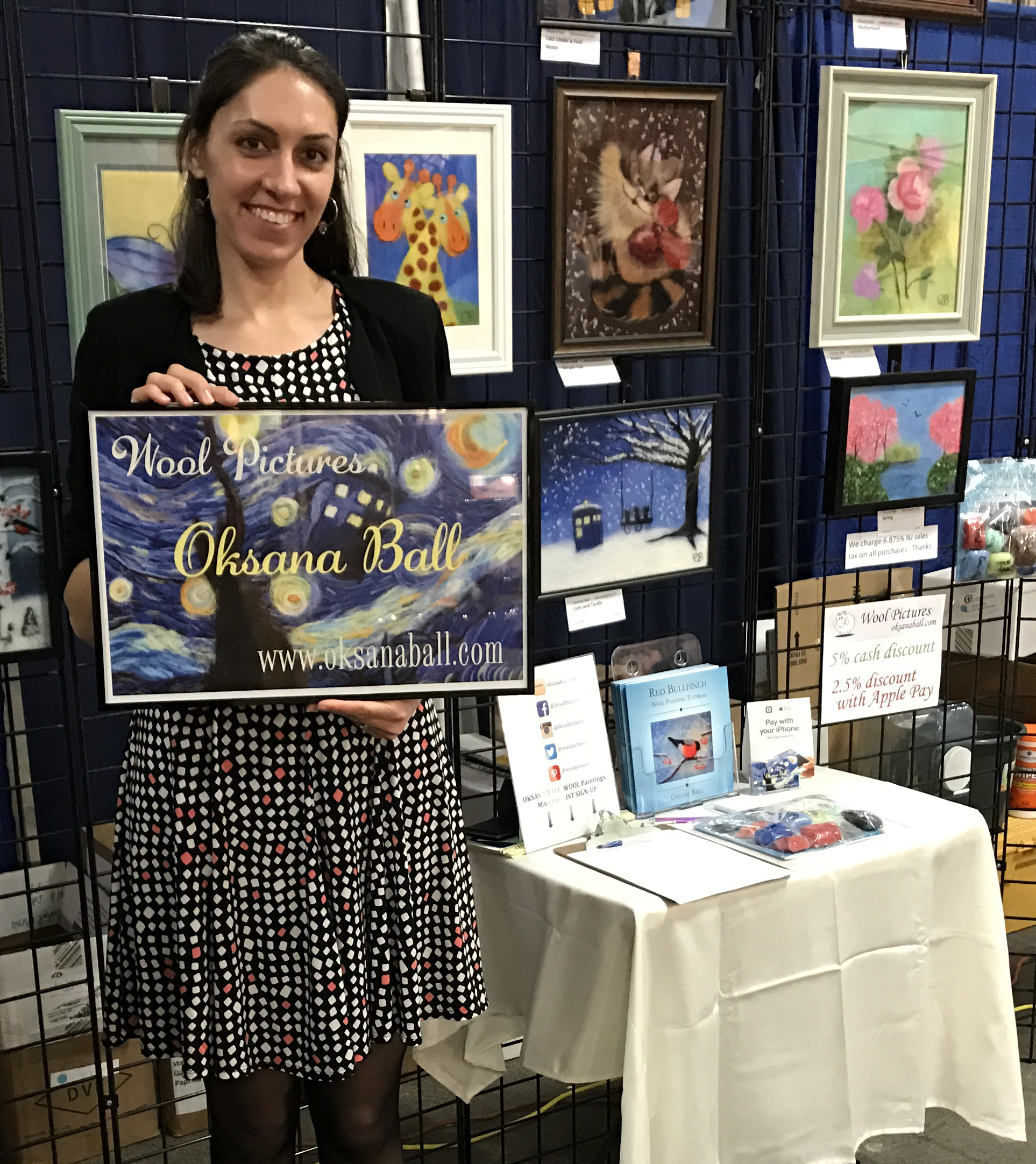 Welcome to my website! I'm Oksana Ball and I'm a self-taught fiber artist and founder of "Wool Pictures". To create images my wonderful works of art, I use a unique technique called "Wool Painting", also known as "Wool Watercolor". Instead of using paint and a brush, I use wool fibers to create the effects of layering color, creating texture, and providing depth. The images are crafted by layering wool fibers atop each other on a flat surface and pressing them with glass to remain firmly in place; after which, they are nicely framed. I don't use any glue, needles, water, or paint!
I loved to draw and paint when I was a kid, but I did not discover my passion as an artist until I became an adult. I was born in Russia, Vyborg – a small city on the border with Finland. When I was 17, I moved to Saint Petersburg where in 2008 I graduated from the Saint Petersburg State University of Information Technologies, Mechanics and Optics with a Master's degree in computer science and economics and began my career as an SEO specialist. After successful working in that field for several years, I relocated to the United States.
Right before I moved to America, I discovered wool as an artistic medium and was fascinated by the technique of wool painting. I took several lessons, learned basics, and started to create pictures with wool by myself. Originally, I pursued this as a hobby, but after moving to the U.S., I realized that this method of painting was almost unknown in the States.
---
WORKSHOPS. LEARN HOW TO PAINT WITH WOOL
Group, Individual and Online Classes for Adults and Kids
Painting with wool is very easy for the beginner. It isn't necessary to be a painter or to know how to draw; you don't even need any experience working with wool. To give life to your masterpiece, you just need wool, a picture frame, and your desire to create.
In my classes, I provide you with all of the materials and instruction required for you to create a one-of-a-kind work of art to cherish for years to come. I'll guide you, step-by-step, through the basics of wool painting — in a fun and relaxing atmosphere. Join the growing world of fiber artists creating amazing things out of wool!
---
UPCOMING ART SHOWS
MARCH 1-3, 2019 – SUGARLOAF CRAFT FESTIVAL – EDISON, NJ
Time: 10am – 6pm
Location: NJ Convention & Expo center 97 Sunfield Avenue, EDISON, NJ 08837
More info
---