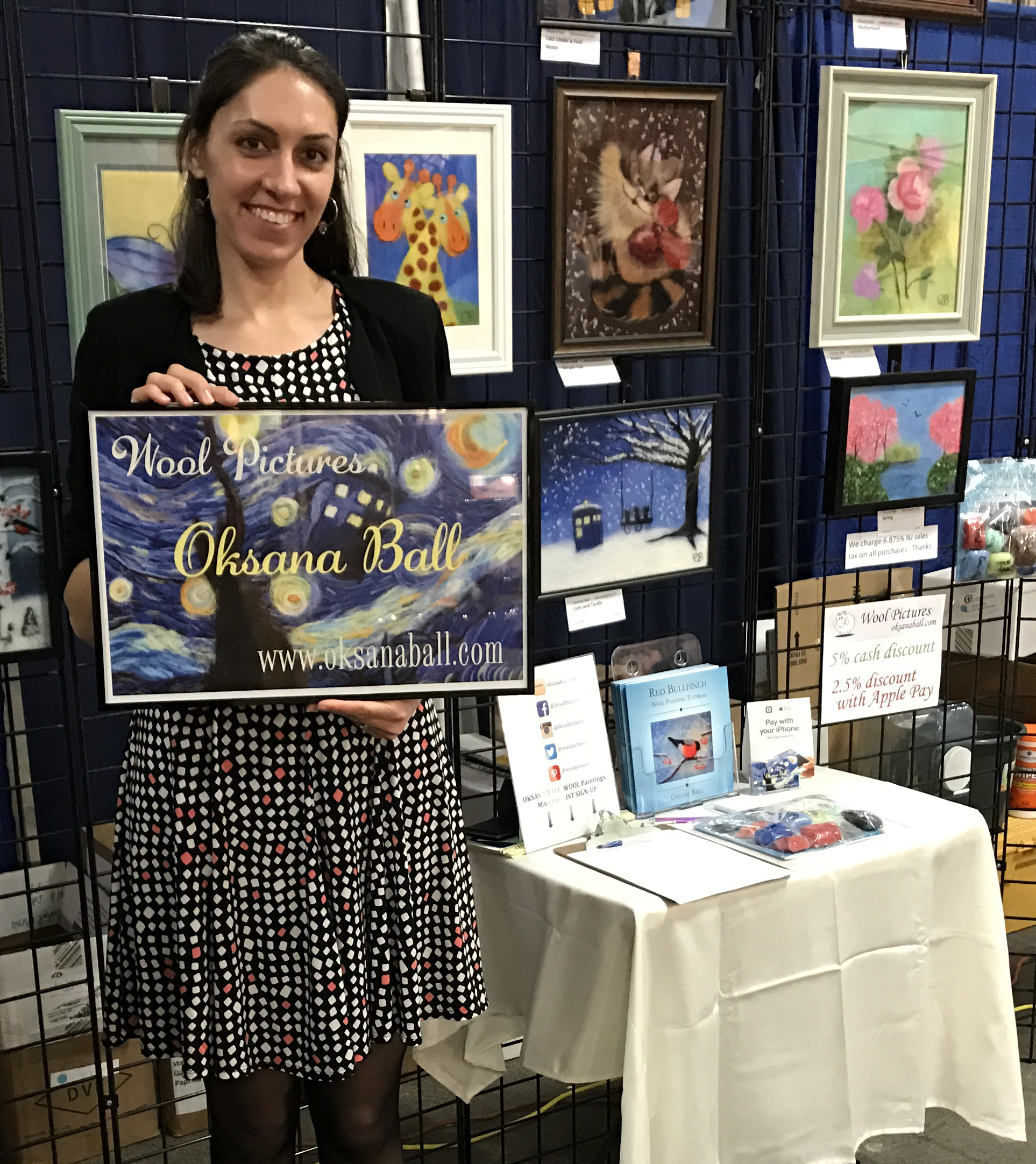 Oksana Ball is a contemporary artist who fashions her creations from wool fibers. A native of Russia, she now lives and works in Hoboken, New Jersey.
Ball did not discover her passion as an artist until she was an adult. She graduated from the Saint Petersburg State University of Information Technologies, Mechanics and Optics, and earned a Master's degree in computer science and economics. She began her career as an SEO specialist and, after working in that field for several years, relocated to the U.S. to pursue new opportunities.
While in Russia, Ball discovered wool as an artistic medium and was fascinated by the technique of wool painting. Wool pictures are fashioned by layering wool fibers on a flat surface to create an image and pressing the finished product under a glass covering to protect the surface. Self-taught in this popular Russian art form, she originally pursued it as a hobby. After moving to the U.S., Ball realized that this method of painting was almost unknown in the States. Determined to turn her one-time hobby into a full-time profession, she studied the art form with a master in the craft and embarked on a professional art career in 2015. In 2016, her online store opened and buyers from around the world have purchased these unique works of art for their collections.
Ball enjoys experimenting with wool and developing new ways to fashion something distinctive and unusual. Because wool is a living material and the fibers always act differently when laid into place, each of her beautiful wool paintings is a one-of-a-kind piece. She loves crafting images in wool and sharing her knowledge with others. She teaches class on the art of wool painting, instructing both online and one-to-one, and has published a tutorial manual on how to recreate one of her works of art. The artist says, "If you would like to try to create something beautiful, I will be waiting for you in my workshop."
Ball is inspired by the natural world, and her upbeat, colorful wool paintings feature a variety of themes, including: landscapes of the four seasons; flowers from gardens and fields; four-legged animals, birds, and fish; as well as beloved family pets. Her children's collection contains a multitude of nursery decor pictures and kid's room designs that star hot air balloons, funny animals, snowmen, and animals dressed up as little kids. She also produces fanciful scenes featuring fairies and whimsical renditions of Doctor Who.
Ball's paintings have been shown in exhibitions in the U.S., including the Sugarloaf Crafts Festival in Somerset, NJ. She has presented her artwork at local venues, such as the Boho Holiday Boutique, where she was interviewed and appeared in a live segment. In addition, Ball's paintings are permanently installed at one of Hoboken's local cafes.