Where to begin? What to do when something doesn't work as you want? These are some of the questions novice artists may ask themselves, when they have a desire to start wool painting. So, what to do in this case? As an experienced wool artist, I would like to offer some advice and suggestions.
#1
It's never too late to start painting with wool. There are many examples of artists whose talent bloomed during adulthood.
I give the example of myself. I never studied painting seriously and don't have an art degree. As with all children, I drew pictures in daycare and took drawing lessons from primary to high school. When my drawing lessons ended, I completely abandoned this craft. It was when I was almost 30 that I started to paint pictures using wool fibers and have now made this art form into a full time job. I create many different paintings, take part in numerous art shows and exhibitions, teach classes, and write tutorials. Read the whole story how I became a wool painting artist.
#2
Painting is a creative and rather laborious process, so be patient and do not lose faith if your first artworks are a disappointment.
Drawing is nothing more than analysis. Always evaluating your artwork, comparing your early works with what you create now and determining what you wish to achieve in the future. The creative process implies a period of time, and for many artists it results in a lifetime of modifying and improving their skills. Remember this and do not expect super-fast results. Even though I have been creating wool paintings for several years, I'm constantly learning and improving my skills and techniques.
#3
The result achieved is proportional to the effort invested. Meaning, the more you practice making art, the faster you gain confidence and experience.
This piece of advice smoothly follows the previous point. If you become discouraged when your results don't meet your expectations, just remember that the more you practice, the faster you gain confidence and experience.
#4
Start with simple creations and work toward more complex pieces.
Don't try to take on an obviously difficult task too soon, since anyone's first efforts may not be very attractive. If you don't have enough experience and knowledge, you risk losing control of the artistic process, which can lead to frustration and disappointment. Start with something simple and, step by step, add more complexity to your tasks. For example, first, learn how to create a simple flower(s) and then try to paint a bouquet of these flowers.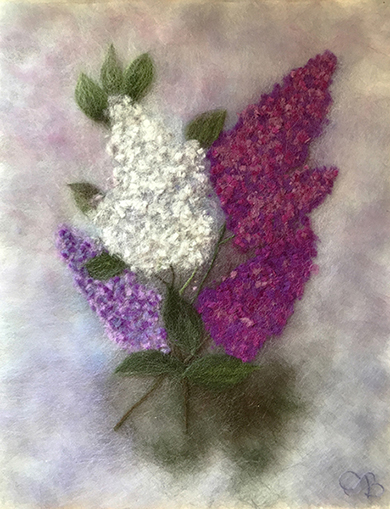 #5
Everybody should begin with copying the work of other artists. Start and you!
It's better to start to create wool paintings by following lessons from an experienced master, whom you have chosen for yourself as a mentor. If you ask who were my teachers, I can tell you the names of three great Russian wool artists. I took several lessons from each one. If you would like to learn how to paint with wool, you can take one of my lessons.
#6
Don't buy a lot of wool and other supplies when you first start, especially expensive ones.
You will be shackled by the feeling that you are obliged to issue a "masterpiece" the first time and you don't have the right to make a mistake in your work. For a novice wool artist, having too much material to work with can be a burden and may create the feeling that you must produce a masterpiece the first time. And, it can produce the belief that you aren't allowed to make the normal mistakes everyone does when learning a new craft.
#7
Don't be too shy to ask for advice! After all, you are focused on the results of your creative efforts, so be sure to ask your tutor for feedback.
Many of us are modest and shy by nature, and we are afraid of disturbing other people. We think that they are not up to hearing our stupid questions. This is not so; we're just hearing the whispers of our own fears and self-doubts. Don't listen to them. A coach or teacher of wool watercolor may have a shortage of time, but I'm sure that every one will be able to answer your questions or give advice. If you have any questions about wool painting, I am always glad to help you.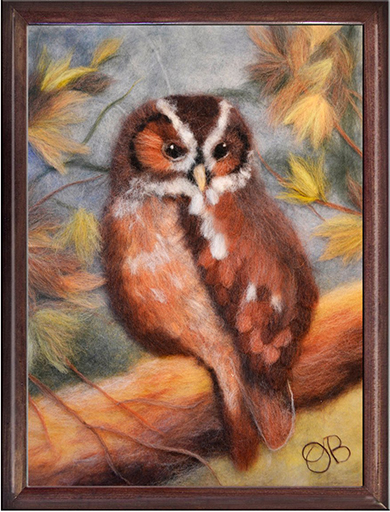 #8
Increase your knowledge and skill level.
Learn about color, composition, air perspective, and light-shadow patterns. It does't matter whether you create pictures with wool or paint. For all fine techniques, principles are the same.
#9
You cannot embrace the immensity. Especially for one sitting. Do not overdo it, otherwise quickly burn out and will not achieve the desired result.
It is desirable to distribute the amount of information absorbed for some length of time. Even better, if what you have learned, you will be able to consolidate in practice. Note that a person well remembers only that information that he can use. That information that does not find application in reality, is quickly forgotten, even if it is very useful.
#10
Filter the criticism directed toward your work.
There are a lot of negative postings in social media these days. Reading too much negative feedback may cause your self-esteem to fall. But you can't experience success without any critical feedback at all, whether good or bad. Artists need it to improve our work and become more professional. That's why you should pay attention only to significant comments and do not take the rest to heart.
#11
Inspiration surrounds us.
Many artists who already have done a fair amount of work are sometimes afraid to be inventive or produce original designs. Perhaps, nothing has stirred their imagination and the lack of vision overwhelmed a desire to create. Maybe, they really just want to give life to a design that comes from within. Where should we search for inspiration?
Little inspiration is born out of emptiness and this is a fact. The more we see of the world, the greater the opportunity that different ideas will come to mind. Fill yourself with visual images and emotions. Start a creative notebook: write down everything that hooked you in, issues you worry about, creative ideas that you have, and what attracts your attention or makes you think, etc. One day, all of these thoughts will grow, come together and inspire a design, which is yours alone.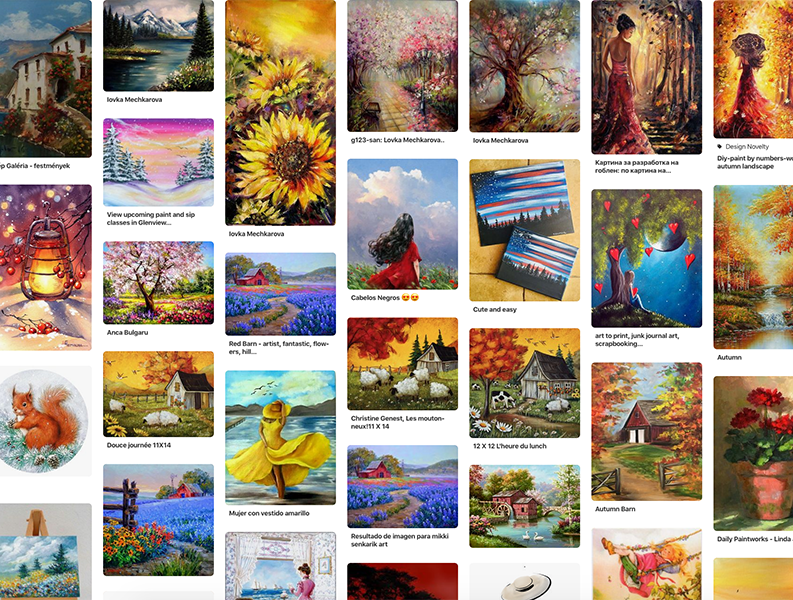 Advice #12.
Practice! Practice! Practice!
And finally: create, improve and have fun along the way!