I have been painting with wool since 2015. One common question I've been asked is "Do I need to know how to draw to learn the wool painting technique"? To answer this question let's figure out what wool painting is.
Painting with wool is similar to the applique technique, something which does not require the ability to draw. For example, when we start learn cross-stitch or embroidery, we don't say to ourselves "I can't succeed because I don't have an art degree". Of course, we will succeed!
To paint with wool, you should learn certain techniques and develop some skills; but knowing how to draw is not one of them. Because wool painting similar to the applique technique, we consider the wool as a voluminous applique material in which put with strands and smears, layer by layer, which eventually creates a thick wool pie. Painting with wool also implements aspects of a glaze painting technique. When we create painting with thin wool smears, we emulate an oil painting or a multi-layer watercolor technique, but instead using an applique material. That's why the visual possibilities of wool painting are so huge.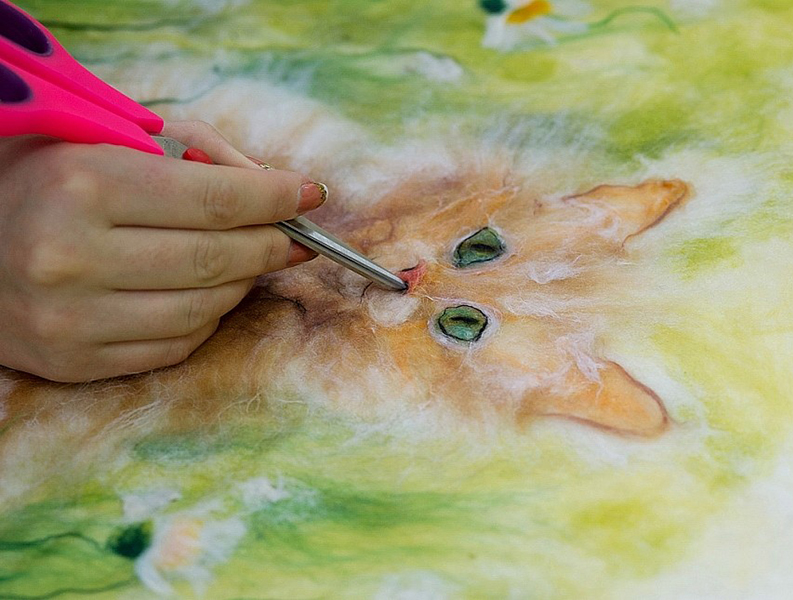 Because the wool is an applique material, there's an opportunity to correct your work at any stage of creation: remove an unsuccessful layer, relocate details which didn't turn out as planned, or even use scissors to correct the form of an object. You can remedy your picture very easily and any time; something you can't do when you paint with oil or watercolor. The main thing I would like to impress upon people who want to learn how to paint with wool is that you need patience and perseverance; these are the most important qualities you need to master this technique.
If you need help keeping the shape of your image while you paint with wool, you can create a simple drawing template on tracing paper and use it like a coloring book to embellish your wool picture. Painting with wool is not about drawing; it is about putting colored applique material – wool – on several layers in the form of a picture. Don't let the fear of drawing stop you, let the wool flow as your image come alive.
---
LEARN THE UNIQUE ART OF WOOL PAINTING WITH MY CLASSES AND TUTORIALS.
TRY OUT A NEW ARTISTIC MEDIUM TODAY!